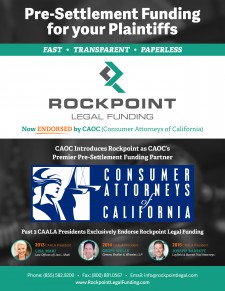 Los Angeles, CA, October 12, 2016 (Newswire.com) - Rockpoint Legal Funding, a company specializing in cash advances to personal injury plaintiffs is the first Pre-Settlement Company to receive an endorsement from the Consumer Attorneys of California Organization (CAOC) on August 15. 2016. CAOC, a Sacramento-based non-profit association advocates for and represents the rights of over 39 Million Californians. Founded in 1961, CAOC was (and currently still is) California's only statewide professional association of attorneys representing injured plaintiffs in civil cases.
Plaintiffs rights, ranging from issues encompassing personal injury, wrongful death, product liability, fiduciary/financial fraud, medical malpractice, elder abuse, environmental issues, and all other civil matters that are a direct result of the negligence of somebody else, are at the essence of the organization's key mission: protecting the rights of injured parties. Among the goals of consumer protection, CAOC also strives to "Promote Camaraderie among California Trial Attorneys."
As the first Pre-Settlement Funding company to receive an Endorsement from CAOC, President Ramtin Ghaneeian says "This is exciting as we believe it's a testament to our innovative 'Lawyer Friendly' model that integrates technology and transparency - variables that are currently missing from the Legal Funding Industry. This endorsement validates our hard work and leads us to believe that we're doing something right."
Rockpoint Legal Funding provides non-recourse cash advances (often referred to as 'lawsuit loans') was launched in Southern California in 2015 and has gained considerable market share since. It's goal is to create a settlement funding company with providing full transparency to plaintiffs. With compound interest, hidden fees, and confusing terms proliferating the legal funding industry, Rockpoint decided to express its cost in dollars not interest rates, allowing plaintiffs to understand the total and true cost of Rockpoint's service before plaintiffs opt to borrow funds against their case.
Rockpoint's paperless process & online portal makes it easy for both attorneys and plaintiffs alike to utilize Rockpoint's services. Rockpoint is now happily partnered up with the Consumer Attorneys of California Organization to provide advances towards lawsuit settlements for personal injury plaintiffs throughout California.
Source: Rockpoint Legal Funding
Share: