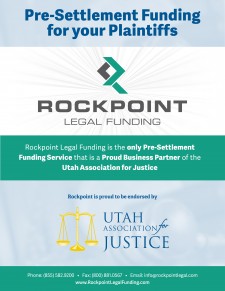 Los Angeles, CA, October 17, 2016 (Newswire.com) - Rockpoint Legal Funding (Rockpoint), a company whose services provide non-recourse cash advances (also known 'Settlement Loans' or 'Lawsuit Loans') received its second endorsement from a statewide plaintiffs organization on September 20, 2016. Shortly after Rockpoint received its endorsement from Consumer Attorneys of California (CAOC), Rockpoint was pleased to receive a public endorsement from the Utah Association for Justice (UAJ).
Upholding Thomas Jefferson's quote: "Trial by jury is part of the bright constellation which leads to peace, liberty, and safety." UAJ's mission is to advance the cause of those who are injured while "promoting the fair, prompt, and efficient administration of justice." Along with these ideals, like other Plaintiff Trial Lawyer Associations, UAJ's goal is to develop and encourage high standards of personal and professional conduct among trial lawyers.
With Rockpoint Legal Funding's second endorsement, the Southern California-based pre-settlement funding company continues to strive to build relationships with other statewide trial organizations to promote its 'lawyer-friendly' funding company.​
Rockpoint's pre-settlement and post-settlement advances provide personal injury plaintiffs the immediate relief they need as a direct result of their injuries. Their non-recourse advances means that if there's no recovery on the case, there's no payback. Often, these cash advances are used to cover living expenses including food, rent/mortgage, & transportation.
Rockpoint also advances funds to cover medical costs and treatment for plaintiffs who are without insurance. As most legal funding companies can take up 72 hours to deliver an approval, Rockpoint's innovative platform allows for quick underwriting and full approvals usually within an hour or less.
Source: Rockpoint Legal Funding
Share: